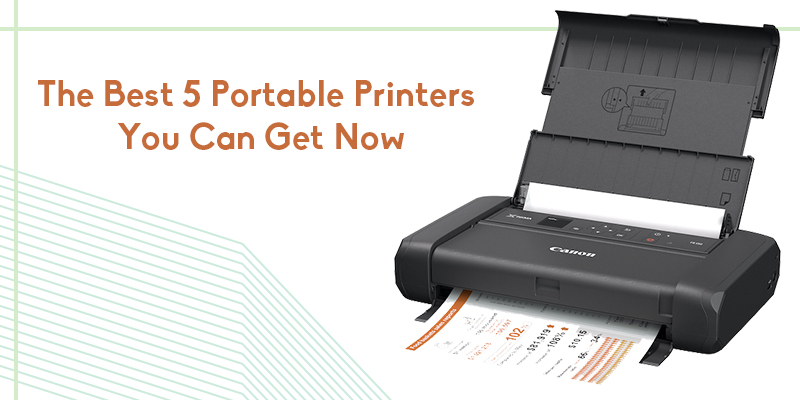 The Best 5 Portable Printers You Can Get Now
Printers are really a very helpful device, they help us get hard copies of our documents, get colored photos, and many more. But you can't carry a normal printer with you as it's quite big in size. That's where the portable printers come into use; these printers are compact in size and do their work perfectly. In this article, we will look at the best portable printers available in the market right now. Here we go!
Canon Pixma iP110
Canon Pixma iP110 is a pretty decent portable printer that weighs 2Kg and measures 12.6 × 7.3 × 2.5 inches. The printer can print up to 9 pages in a minute (black and white), and if you want the colored print, then it can print up to 6 pages. The printer provides you with high-resolution prints. It includes a "save black ink" mode that and five ink cartridge for superior color reproduction. The printer overall works fantastically and should consider it buying.
HP OfficeJet 200 Mobile Inkjet Printer
HP OfficeJet 200 is another great portable printer that measures 14.3 × 7 × 2.7 inches and weighs 2.5Kg. It can print 9 black and white pages in a minute and 7 colored pages per minute. It is compatible with a maximum A4 sized paper. The printer is quite straightforward, so you can use it very easily. It can print papers in high resolution. You can connect this printer to your mobile or computer via a USB cable or wirelessly. It works on a battery, but you can also use it by connecting directly to electricity.
Epson WorkForce WF-110
Epson WorkForce WF-110 is an excellent portable printer that weighs 1.6Kg and measures 12.1 × 6.2 × 2.4 inches. The printer is quite faster, it can print up to 14 black and white pages in a minute and 11 colored pages per minute. It is compatible with maximum A4 sized sheets. It gives you very detailed prints and is lightweight too. It integrates a battery that can supply power to print up to 50 pages. However, you can get an external battery as well that will allow you to print up to 410 pages. Additionally, it boasts a 3.7cm LCD screen that you can use to set up WiFi as well as check ink supply levels. It is unquestionably one of the best portable printers you can get now. I would strongly recommend you buy the Epson WorkForce WF-110 printer, it works flawlessly.
Brother PJ-773
Brother PJ-773 is quite a decent portable printer that you can get now. It weighs 1.6Kg and measures 10 × 2.2 × 1.2 inches. The printer is capable to print 8 pages per minute whether they are black and white or colored pages. This printer can only print in black and white, so if you want to get colored prints, then you will need special thermal reactive paper for that. However, It is very compatible in size and even prints your documents in decent quality. But keep in mind that if you are looking for a printer mainly for printing images, artwork, or graphics, then Brother PJ-773 will not be a great pick for you.
Canon Selphy CP1300
Canon Selphy CP1300 is not a very fast printer, but it gives you high-quality prints. It is quite compatible in size and very lightweight, only 860g. It features a WiFi button, a USB port, a Party Shuffle tool to print collage images from multiple smartphones, and many more. It measures 7.1 × 5.3 × 2.5 inches. The printer does its work perfectly, but it takes approximately 47 seconds to print a single sheet. Well, if you want high-quality prints and don't care about printing speed, then I will suggest you go for this option. Otherwise, you shall go for other ones.
These are all our picks for the best 5 portable printers. You can buy any of the above-mentioned options; they all work very nicely and will give you satisfactory results. That's all for this article. I hope you liked it. Thank you!